BIOGRAPHY

Ugly In The Morning is arguably Singapore's naughtiest badass alternative funk rock band. Merging wordplay innuendos with tight rhythm jabs backed by searing guitars, Ugly In The Morning are veterans at making geeks feel sexy. The band's sound can best be described as an eclectic mix of Funk, Blues and Rock with liberal doses of R&B / Soul with emphasis on vocal harmonies and kicking funk rhythms.
Formed in 1999 from the ashes of an earlier incarnation also called Ugly In The Morning, then a 3-piece acoustic guitars / vocal harmony group formed by Eric Lee, Noel Ong, and David Baptista, that played covers at pubs before deciding to recruit a bassist and a drummer to write original music in a full band format. The band went through several line-up changes before finally settling on Clement Yang, a mad professor of music, on bass; and Goh Ling Pin, who has since added a much heavier element to their sound, on drums.
The band released their debut self-titled album in 2004. Amazingly, the extremely disparate musical influences of each of the members resulted in a strange yet pleasing musical brew that (hopefully) the band could call their own; cramming funk rhythms together with layers of blues, jazz, R&B, rock, punk, folk and even country into a swirling cauldron of bubbling rock reactants, resulting in a madcap brew called Ugly In The Morning.
In January 2008, the band began recording their second album, "For, Nikette Frehley" and released the music video for the first single, "Me, Not Humphrey At 23" in December. The music video, directed by Kenny Png of The Enigmatic Army, garnered airplay on MTV Asia and has been well received by fans and supporters of the band. The band officially launched their second album on the 4th of April 2009 at the Singapore Art Museum to a room packed with fans and friends.
Their sophomore effort sees the band's sound becoming more defined and focused. It is definitely heavier and not as light or tongue in cheek as the first album, and reflects a conscious shift in attitude towards 'song', rather than 'jam'. It should also display a move away from being clever to being meaningful. It deals with matters of the heart (again), and hopefully speaks to you, the listener (in a mildly boozy, slurred but intimate whisper in your ear), about hope, loss, direction and drift, love, redemption, cigarettes and alcohol.
For now, Ugly in the Morning is enjoying the firmest line-up they've ever had, and are dedicated to coming up with the most badass, most kicking original music that they possibly can. As always, their sights are set firmly, but barely, above the gutter. Stay tuned.
Pam Oei
Vocals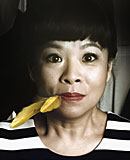 Best known for her work in the theatre, Pam is a respected actor and comedian on the Singapore stage. She is probably most recognised as being one third of the delectable Dim Sum Dollies, a wildly popular cabaret act.
However, Pam's first love has always been music and nothing gives her greater joy than being the new front woman of Ugly in the Morning. She looks forward to many adventures in music and beer with the brand new Uglies.
Noel Ong
Guitars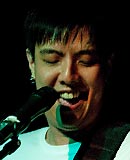 Noel loves the blues. Noel really likes the funky shit. Noel grew up on rock grunge n metal. Noel also loves Brit Pop. Noel loves humbucker guitars n loud crunchy amps. Noel loves making music with Ugly in The Morning. Noel is devoted to his family. Noel is god.
Besides UITM, Noel also plays guitar for Chinese Metal band, Wan Da, as well as Singapore-based Pink Floyd tribute band, Welcome to the Machine.
David Baptista
Guitars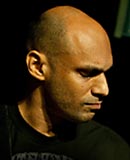 David claims to hear music in his head all day long. A self-taught guitarist, he is into all sorts of music but has a personal preference for Rock, Metal, and Funk music.
Besides UITM, David also plays guitar for Chinese Metal band, Wan Da, as well as Singapore-based Pink Floyd tribute band, Welcome to the Machine.
Clement Yang
Bass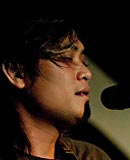 Clement believes that success comes easily only through hard work. He loves music and aspires to play the "deep stuff" you hear in Jazz music. He also dabbles in music production and audio engineering work.
Outside of UITM, Clement runs The Music Academy, Guitar 77 and Hood Bar and Cafe.
Joseph Saleem
Drums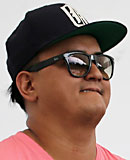 Joseph began his love affair with the drums at the tender age of 8 and has never looked back since. He is no stranger to the local music scene having drummed for E.I.C, Soul Circle, and SIXX. One of the high points in his musical career was opening for Chris Daughtry at the Traffic Jam Street Party 2.
Joseph also plays for covers band, Smells Like Last Friday. When he is not performing, Joseph is an accomplished drum instructor offering private lessons to aspiring drummers of all ages.